Blogger-Friendly WordPress Websites, Community, Agency Support
Want to create a blog but don't know where to start?  There are a lot of options out there to choose from.  We created this service because we had so many inquires from bloggers over the years struggling to get started, or losing momentum because of technical issues.  This is the most minimalist, all-in-one blogging website service on the market.  If this sounds like what you're looking for, you are in the right place!
With this service you will:
Have a professional blogging website set up and personalized just for you.
Leave the ongoing website maintenance and hosting to us.
& have a personal agent to walk you through the whole process getting started!
No setup fee, and just $35 per month!
Features Breakdown
All-in-one blogging website, hosting & support service
Fully maintained and updated
Daily backups of your website
Full Admin access to add, edit your blog posts
Capture emails to build your subscriber list
Built on WordPress
1 Low monthly payment
*No website setup fee: get up and running at no charge
*Bonus: Free Superdash to make managing your website even easier
— How It Works —
First, we build you a minimal, blogger-friendly WordPress website.  The website loads lighting-fast on smartphones and is very easy for your readers to enjoy and receive what you share through your blog.  Our team will walk you through the back end of your website so you know how to use it before we send you off on your blogging journey! We even send you the screen recording of this call and send it to you so you can refer to it anytime you need a refresher.
Second, we collect emails from readers of your blog who want to subscribe and receive your updates.  Your email list is easy to export whenever you need it, and easy for us to integrate with your email blasting service.
Lastly, our team will host your website and maintain the entire technical side for you.  Your website will be completely secure, have minimal (practically zero) downtime, and will always be easy for you to update and easy for your reader's to read.
FAQ
What if I already have a website and blog?
Yes we can migrate an existing blog onto our platform!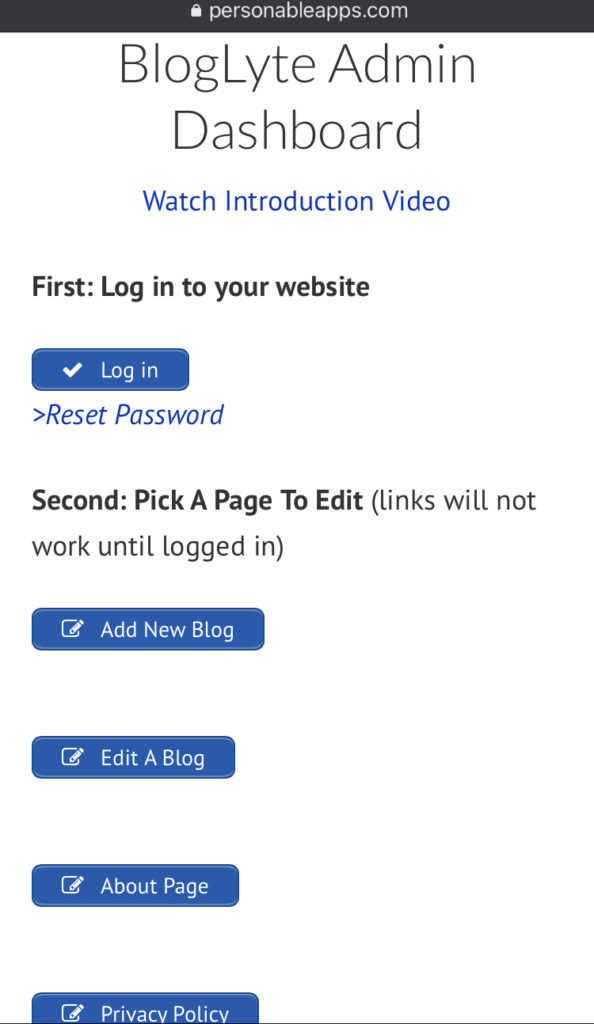 So I Have A New Blog, Now What?
Not only will you get your website set up completely free, and provide world-class, personable support for you on your website and your blogging journey, we're going to sweeten the deal for you.
Starting 2021 we will build you your own custom "Super Dashboard" to update your website all your own!  The BlogLyte Super-Dash will help make it easy for you to make updates to your website all on your own, even if you're not technical, and even if you've never seen the back-end of WordPress before.
This is included as part of our ongoing 🌟5-star BlogLyte Support.  If you ever need help, we are always just an email or phone call away.  No question is too small for us to answer, your happiness with our service and success with blogging is our priority.
Our team is made up of blogging professionals who are happy to provide feedback to your blog, and even publish it for you.
Bloglyte websites are..
The perfect starter websites for your online venture.  They are built on WordPress, so when you're ready for a makeover so is your website.
Designed for usability.  They are built to be easy to read your blogs from any device.  They are designed to increase the number of posts viewed per website visit, and to keep visitors on your website longer.
Minimal. Bloglyte websites get rid of all the clutter.  No ads, no additional distractions or things to click on that might detract from people reading what you have to share.
Example BlogLyte Websites
— Just $35 to get started, $0 website setup, month to month, 🌟5-star service —